Our Great RV Trip to the West, Part 1
This past summer we got to take our first full-blown, official RV trip! This is funny to say because we lived in that RV for 4 months with the renovations – we just didn't go anywhere. The ol' girl finally got back out onto the road though as we headed out west for a month-long road trip.
I think we could all very easily be full-time traveling gypsies. Living on the road suits us and none of us mind the close quarters. The kids love hanging out on couches, playing with their toys, while we drive down the interstate. Sean and I love the lack of bathroom breaks and packing/unpacking hotel rooms an RV affords us. We all love the adventure.
Before we get into the nitty gritty of our trip, this was our rough plan of action:
We like to adjust/change things as we go so we don't make reservations ahead of time and nothing is set in stone. We use a few different apps and resources to make that easy and I'll cover all those in a future how-to post. For now, let's dig into the fun stuff. :)
Our trip got off to a marvelous start. We left Tennessee headed for Missouri when this happened somewhere in Middle-Of-Nowhere, Kentucky.
You hear about how scary a blown tire can be and I feel like we got really lucky. It really wasn't anything more than a weird noise that alerted us to the problem. We didn't lose control and a mechanic with the tire we needed was nearby.
We had planned to make it to St. Louis that afternoon for some swimming and relaxation, but life had other plans and it all worked out just fine. The kids and I sat and had ice cream in front of an old antique store and watched the tractors roll by instead. When you're on a road trip, flexibility is paramount.
Saint Louis, Missouri: The Gateway Arch
St. Louis is a lovely city with many amiable qualities that I look forward to going back to explore sometime when it isn't hotter than Hades outside.
We stayed at the Casino Queen RV Park and took the train into the city. It made it super convenient to explore without having to navigate an RV through downtown and find parking.
The RV park was super clean and gated. Staying there also gave you access to the hotel's indoor pool and they had a shuttle service that would take you back and forth. I highly recommend it if you're looking for a place to stay in your RV in St. Louis.
The arch was our main agenda for this stop. You don't want to use up all the fun things in one excursion, after all.
The walk from the train station was a bit long for little legs and all the construction around the arch made the walk even longer. Also, did I mention it was hotter than Hades?
It was. Practically literally.
That brought on lots of this:
We also had a moment when Seven realized just how tall the arch is and had a minor freak out/panic attack about the height after we bought tickets, but we made it! The fear was conquered with the promise of a keychain as reward and we all survived! We even enjoyed it. And the air conditioning back at the RV upon our return never felt so good!
Omaha, Nebraska: Omaha Children's Museum
To break up a rather long stretch of driving time, we stopped off at the Omaha Children's Museum. I've found that children's museums can really span the gamut between amazing and meh, and you never really* know what you're getting until you're inside. This one was a pleasant surprise! They had so many great interactive exhibits. Their temporary "under the sea" installation upstairs was a special treat for our shark lover, and the girls loved the giant indoor playhouse and market. We planned for 4 hours there and were hard-pressed to get to everything. It's a fun stop if you're in the area!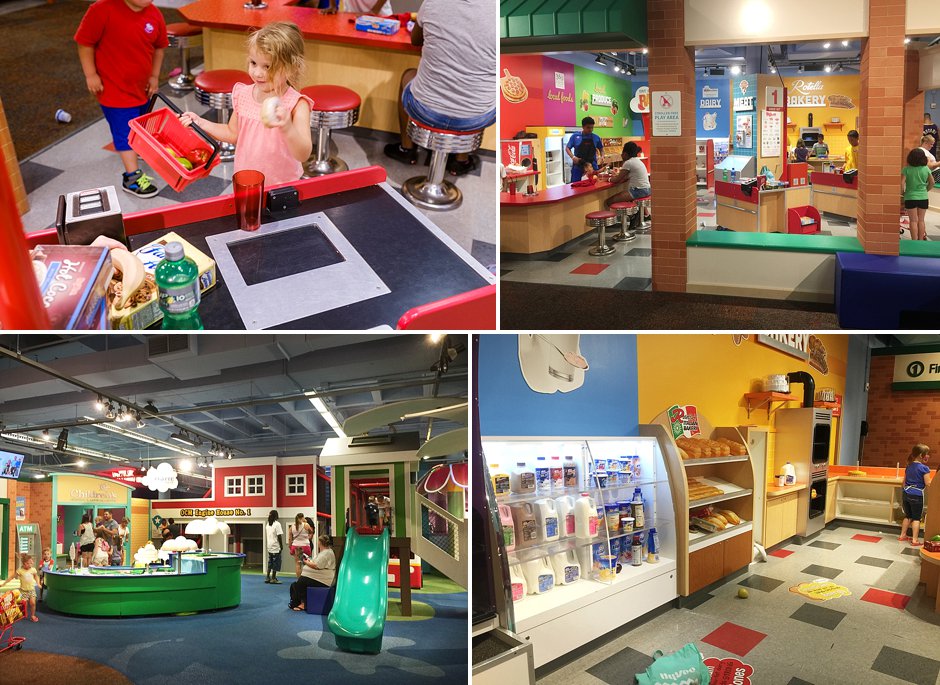 Sioux Falls, South Dakota: Falls Park
The Falls of the Big Sioux River was beautiful, but….smelly. I don't know if it was the water or some paper factory nearby. The color of the water coming down the falls gave me pause, but y'all – it was STILL. SO. HOT. There was no way I could tell the kids they couldn't play in the water, as disgusting as it smelled. There weren't any toxic waste signs posted or anything, so I decided to let ignorance be my friend, throw caution to the wind and just let everyone get their feet wet. We all survived. No one got any crazy infections or mysterious super powers so all's well that ends well.
Mitchel, South Dakota: Corn Palace
The Corn Palace is one of those hokey stops you just have to make. You drive out of your way to see a giant gift shop covered in murals made entirely of corn and you love it.
Take a picture with a hokey corn statue for extra measure.
Nowhere, South Dakota: The Incident
When you get out in the wide open countryside of South Dakota, there are some rather long stretches of absolutely nothing. Billboards for one particular gas station warned us that that was about to be the case, so we stopped off to fuel up. While Sean was getting gas, I spied this gorgeous sunset and decided to get the kids out for a few quick photos.
Those ended up being rather expensive photos.
Sean was trying to watch for all the cars that had pulled in around the RV since we stopped, while simultaneously watching for the kids and I outside. What he missed was this red barrier pipe in his blind spot and it just jumped out and bit him.
When I say "bit him", I mean it ripped the back of the RV off.
The owner of the gas station was incredibly kind. He was so good about the accident. He even offered us a place to stay for the night under his cotton trees and helped us patch up the RV before sending us on our way in the morning. We had been having a hard time locating a place to stay for the night, so that was taken care of and alls well that ends well. You can really let something like this ruin your trip, but what's the point really? No one was hurt, and it made for a good story. Most of all, thank goodness for auto insurance! ;)
Murdo, South Dakota: 1880's Town
I was hoping to find something very "Old Wild West" to show the kids on this trip and then we started seeing billboards for 1880's Town. I'm so glad we took a chance and stopped! This place is kind of incredible. They've brought in original structures from all over the area to recreate an old Western town. Each building is fully furnished and accessorized and you can walk through most. They put on a little comedy show a few times a day and they have a ton of random memorabilia from the movie Dances with Wolves to top it off. We all had a great time and it was so fun to get a sense of what it would be like to walk through an actual town in the old West.
Wall, South Dakota: Wall Drug
Wall Drug. What even is this place? I've been and I still don't know. It would seem that it's a simple drug store that got out of control. They just kept adding more space and putting all sorts of random crap in it until you could get lost in there for hours and not even know what happened to you.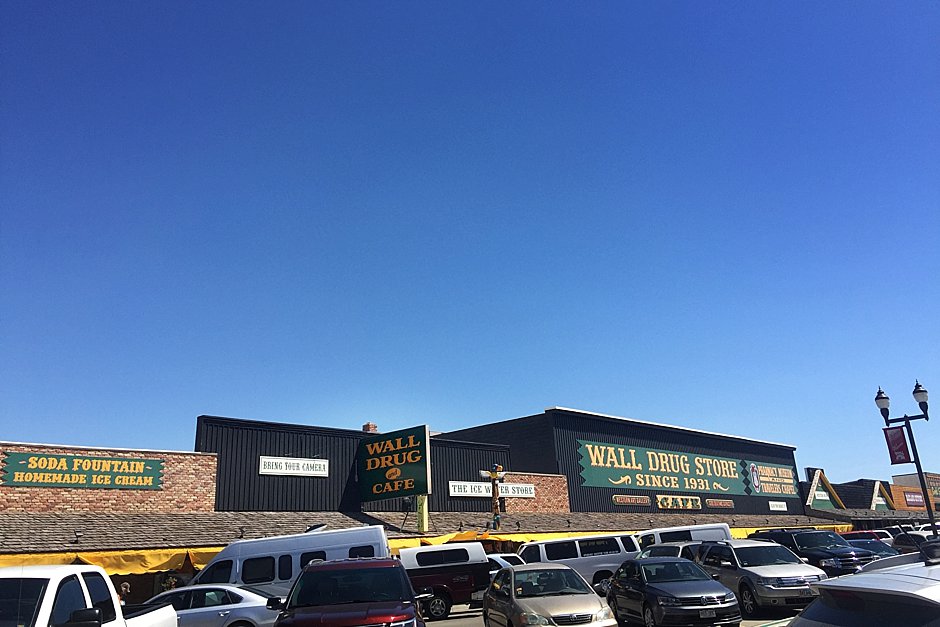 Parent of the Year moment: I asked the kids if they'd like to take a picture with an Annie Oakley statue that was sitting on a bench, but my little ladies man honed in on this beauty and climbed up into her lap instead. I mean…
Aside from the questionable statues, my kids enjoyed playing in the water feature, getting an education in the business end of a stuffed buffalo, and loving all up on a giant stuffed bunny whose worn fur made my skin crawl.
I self-soothed with an amazing maple-glazed donut they make fresh somewhere in that maze of a store.
Badlands National Park, South Dakota
Of all the places I was looking forward to experiencing on our trip, Badlands National Park was at the very top of the list! I went once as a teenager and I remember it being one of the coolest, most otherworldly place I've ever been. I really wanted the kids to get to explore it and take away wonderful memories of their own.
Needless to say, they thought it was spectacular. We drove through the park, stopping here and there to see some wildlife or get out for a closer look at the rock formations. We took quite a bit of time next to the fossil exploration area. It's a nice flatter hiking area where the kids can roam and climb on things without getting out of your sight.
The Badlands also started the great climbing obsession of 2016. This whole trip was basically a little climbers dream come true, but especially the Badlands. The prevailing question from Seven was "can I climb that?" — well, that and "can I get a keychain from here?" Be forewarned, if you start a keychain collection at the beginning of your trip, this can become a very expensive habit. ;)
We found a spot inside the park to sit and watch the sun set. The rocks change continually as the sun sets and it was so beautiful.
Keystone, South Dakota: Mount Rushmore
I'm not sure there's anything more 'merica to do in all of the U.S. than to visit the giant heads of our nation's leaders carved into the side of a mountain.
It was cool.
We all got our picture in front of the monument and walked through the museum. It's really astounding to see all the work that went into creating this place. I just kept thinking, what would have happened if just one person carving the faces said "oops"?
Sean and Seven hiked up for a closer view while the littles and I got French fries in the cafeteria. It was a solid stop.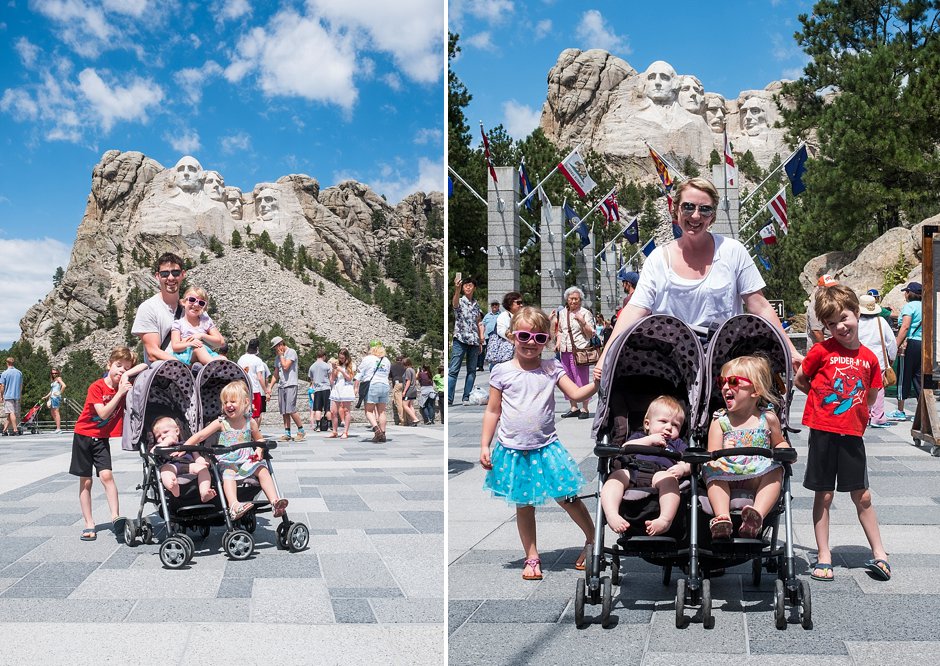 Crazy Horse, South Dakota: Crazy Horse Memorial
Just down the road from Mount Rushmore is the Crazy Horse Memorial. They've been working on it forever and it would appear that that's going to continue for quite some time.
I think it's going to be really cool for the kids to have pictures of themselves in front of the partially constructed sculpture and be able to come back one day to see it completed.
They also have a pretty extensive Native American museum set up at the foot of the Memorial. We were all really interested to learn about the history of the people and see so many interesting artifacts.
Custer South Dakota: Custer State Park
Custer State Park is beautiful, but I can't say it's a must-see. We drove the wildlife loop and saw a remarkable lack of wildlife for the most part. There was a large herd of buffalo right next to the road at the end of the loop and the kids really enjoyed getting a close look at them.
When we pulled up to where the buffalo were grazing, there was a group of people standing just a few yards away from them and a park ranger yelling at them to get back in their cars. Should you have the opportunity to stand next to a buffalo some day, be warned: they may seem like big, gentle cows, but evidently they are wild, charging beasts when they want to be.
After our buffalo sighting, we found a pretty spot next to a creek to park for a picnic lunch. We waded down the creek a ways in our rain boots too, until we saw a snake in the water and quickly ended that little excursion.
From here, we started to make our way down through Wyoming and into Colorado. Nothing against Wyoming, but we didn't make any stops there other than a quick overnight stay in a Walmart parking lot. We had plans to stay with friends in Colorado and we opted to just keep moving.
I will say though, driving through the vast, open countryside of Wyoming and into the rocky mountains of Colorado, I couldn't help but think about the pioneers who travelled out that way in covered wagons. There were places where the plains turned quickly into deep ditches as far as you can see, or they would have found themselves traveling over steep mountainous terrane that now have nicely graded roads for us to traverse. There are so many instances out there where I would just think, "how?? How did they even begin to get a wagon over that??" They obviously had a great deal of tenacity.
This post is getting super long and there are still half of the stops left to cover, so I'm cutting it off here and we'll resume later this week. Thanks for coming along with us! Much more from Colorado and beyond to come. :)